Product Description
Ynf Excavator Spare Parts Rubber Jaw Spider Coupling Red Gr75 160*80-37 
Structure:Jaw / Spider                                                                       Flexible or Rigid:Flexible
Standard or Nonstandard:Standard                                                  Material:PU, or others, PU
Brand Name:Y&F                                                                              Place of Origin:HangZhou, China (Mainland)
Model Number:Elastic spider                                                            Item:spider coupling rubber
Color:Red color                                                                                 Size:GR75
MOQ:1 Pcs, also depend on you needs                                           Specification:160*80*37
Supply Ability
Supply Ability:
3000 Piece/Pieces per Month
Packaging & Delivery
Packaging Details
In standard export packing:suche as  carton, plastic bags etc.
HangZhou,China
Lead Time :
In 3-7 days or according to your orders
 
| | |
| --- | --- |
| Place of Origin | HangZhou, China (Mainland) |
| Brand Name | YNF/Y&F |
| Property | High/low temperature resistance, oil and fuel resistance, weathering resistance, O zone resistance etc. |
| Shape | According to your requirement. |
| Color | Red color  |
| Material | Jaw,Spider,Rubber |
| Delivery | Within 10 days after payment |
| Packing | Plastic bag & carton box or according to your requirements. |
| Application | Excavator/Digger |
Product show as below:
| | | | |
| --- | --- | --- | --- |
|   | OD   | ID | H |
| GR-28 | 65 | 30 | 20 |
| GR-38 | 80 | 38 | 22 |
| GR-42 | 95 | 45 | 20 |
| GR-48 | 105 | 52 | 26 |
| GR-55 | 120 | 60 | 27 |
| GR-65 | 134 | 69 | 25 |
| GR-75 | 160 | 80 | 37 |
| GR-90 | 199 | 100 | 42 |
| GR-100 | 224 | 113 | 38 |
| GR-110 | 225 | 127 | 42.5 |
About us:
Company Information
Yingfeng Construction Machinery Limited established in 1988,having both trading company and owned factory .Office and showroom are located in HangZhou ,Xihu (West Lake) Dis. district. We produce and sell various Excavator Parts,such as coupling,Oil Seal,Hydraulic Parts,Excavator Rubber Parts,Excavator Electric Parts,Excavator wearing Parts,Engine Parts,Excavator Filters,Excavator Gears,Bearings,Excavator A/C Parts,Excavator Undercarriage Parts and Some air compressor couplings.
FAQ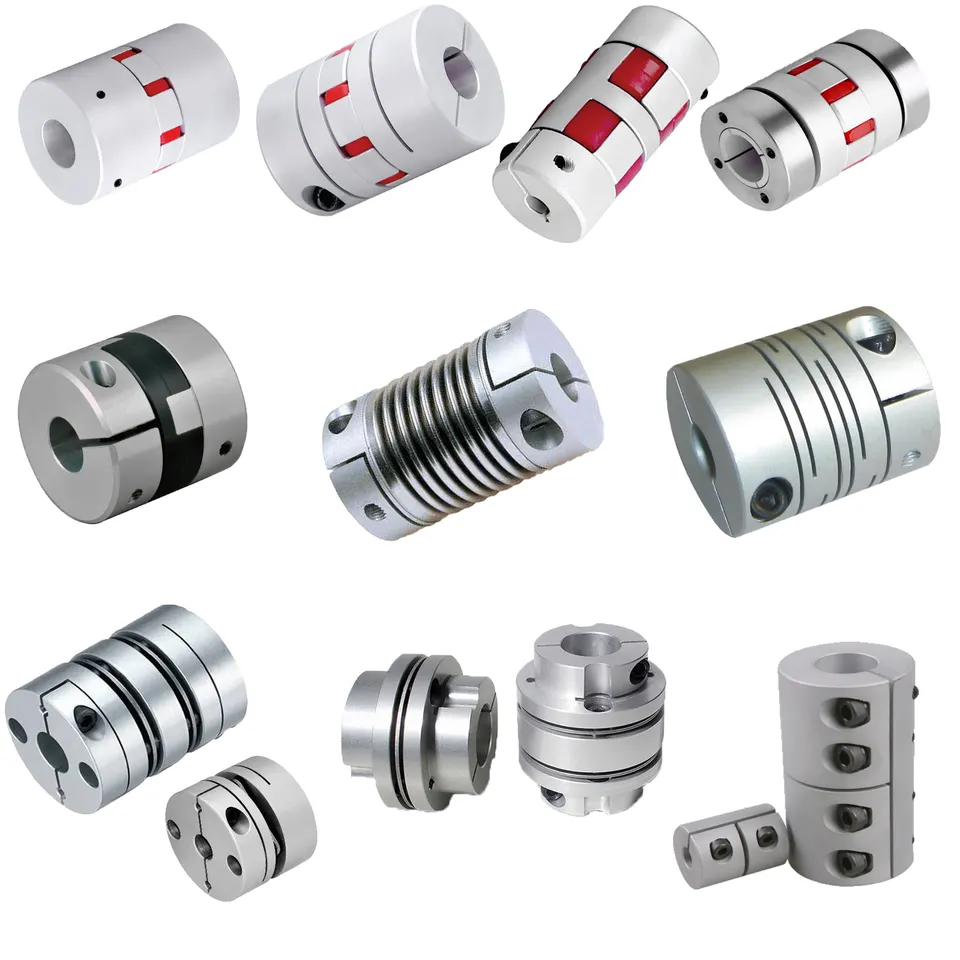 Impact of Jaw Coupling on Noise and Vibration in Mechanical Systems
Jaw couplings play a significant role in mitigating noise and vibration levels in mechanical systems. The design and materials of the coupling determine its ability to dampen vibrations and reduce noise. Here's how a jaw coupling affects noise and vibration in a mechanical system:
Vibration Dampening: Jaw couplings, especially elastomer jaw couplings, are designed to absorb and dampen vibrations that may occur in the system. The elastomeric spider element in elastomer jaw couplings acts as a cushion, absorbing shocks and vibrations that might result from misalignment, sudden starts, or stops. By absorbing vibrations, jaw couplings help prevent these vibrations from propagating through the system, thus reducing the overall vibration levels.
Noise Reduction: The vibration dampening properties of jaw couplings also contribute to noise reduction. Vibrations can lead to mechanical noise, which can be particularly pronounced in high-speed applications. By reducing vibrations, jaw couplings help decrease the noise generated during system operation. This is especially beneficial in applications where low noise levels are crucial for the comfort of operators or nearby occupants.
Misalignment Compensation: Jaw couplings are designed to accommodate a certain degree of misalignment between the shafts they connect. This ability to compensate for misalignment prevents additional forces and stresses from being transferred to the system, reducing the likelihood of generating noise and vibrations due to misalignment.
Material Selection: The choice of materials in jaw couplings can also influence noise and vibration levels. Elastomer jaw couplings, with their flexible spider element, offer superior vibration dampening compared to rigid metallic jaw couplings. Metallic jaw couplings, while not as effective at vibration dampening, are more rigid and offer higher torque capacity.
Overall, jaw couplings are effective in reducing noise and vibration levels in mechanical systems. The extent of noise and vibration reduction depends on the specific design, material, and the level of misalignment the coupling can accommodate. Properly selected and installed jaw couplings can contribute to a smoother and quieter operation of the entire mechanical system.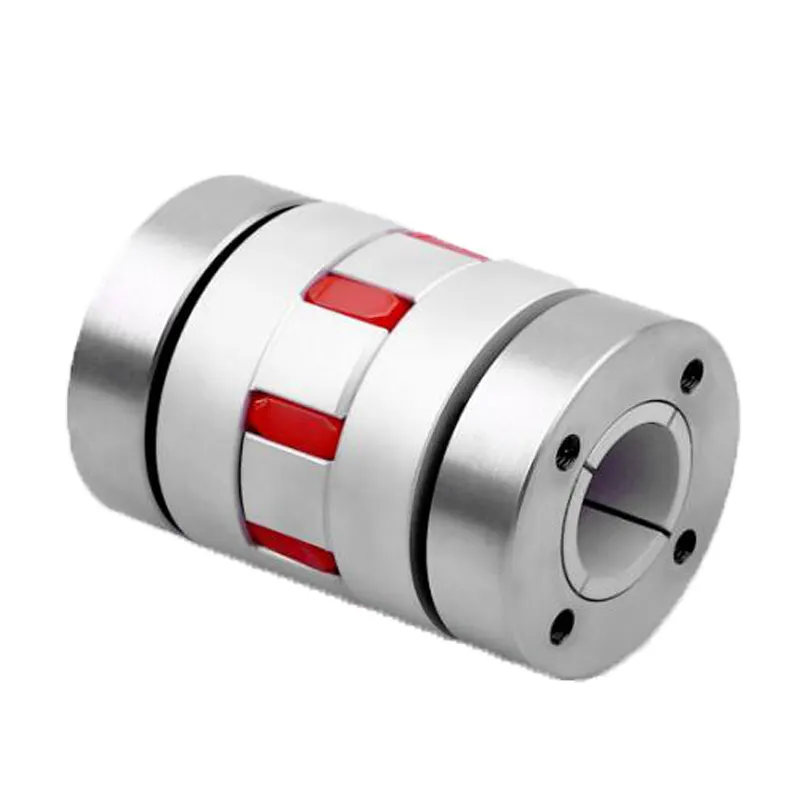 Can jaw couplings be used in marine and automotive applications?
Yes, jaw couplings can be used in both marine and automotive applications, and they have proven to be effective in various scenarios within these industries. Here's how jaw couplings are utilized in marine and automotive settings:
Marine Applications:
In the marine industry, jaw couplings are commonly used to connect the engine to various components, such as propellers, pumps, generators, and auxiliary equipment. They offer several advantages that make them suitable for marine applications:
Corrosion Resistance: Marine environments are exposed to saltwater and other corrosive elements. Jaw couplings made from materials such as stainless steel or other corrosion-resistant alloys can withstand these harsh conditions and ensure long-lasting performance.
Misalignment Compensation: Vessel movement and hull flexing can lead to misalignment between the engine and driven components. Jaw couplings can accommodate both angular and parallel misalignment, ensuring efficient power transmission even in dynamic marine conditions.
Vibration Damping: The elastomer spider in the jaw coupling absorbs vibrations generated by the engine and other equipment, contributing to smoother operation and reduced wear on the components.
Compact Design: Space is often limited on boats and ships. Jaw couplings have a compact and lightweight design, making them suitable for applications with space constraints.
Automotive Applications:
In the automotive industry, jaw couplings are used in various applications, including power steering systems, engine-driven accessories, and HVAC blowers. They offer several benefits for automotive applications:
Misalignment Compensation: Jaw couplings can handle small misalignments that can occur due to engine movements or assembly tolerances, ensuring reliable power transmission and reducing stress on the drivetrain.
Vibration Damping: The elastomer spider in the jaw coupling dampens engine vibrations, contributing to a smoother and quieter ride for passengers.
Compact and Lightweight: In modern vehicles, lightweight components are essential for fuel efficiency and overall performance. Jaw couplings' compact design and low inertia make them suitable for automotive applications.
Cost-Effectiveness: Jaw couplings are often more cost-effective compared to some other coupling types, making them a popular choice for automotive applications where cost considerations are essential.
In conclusion, jaw couplings are versatile and can be successfully used in marine and automotive applications. Their ability to handle misalignment, dampen vibrations, and provide efficient power transmission makes them reliable components in various dynamic and demanding environments.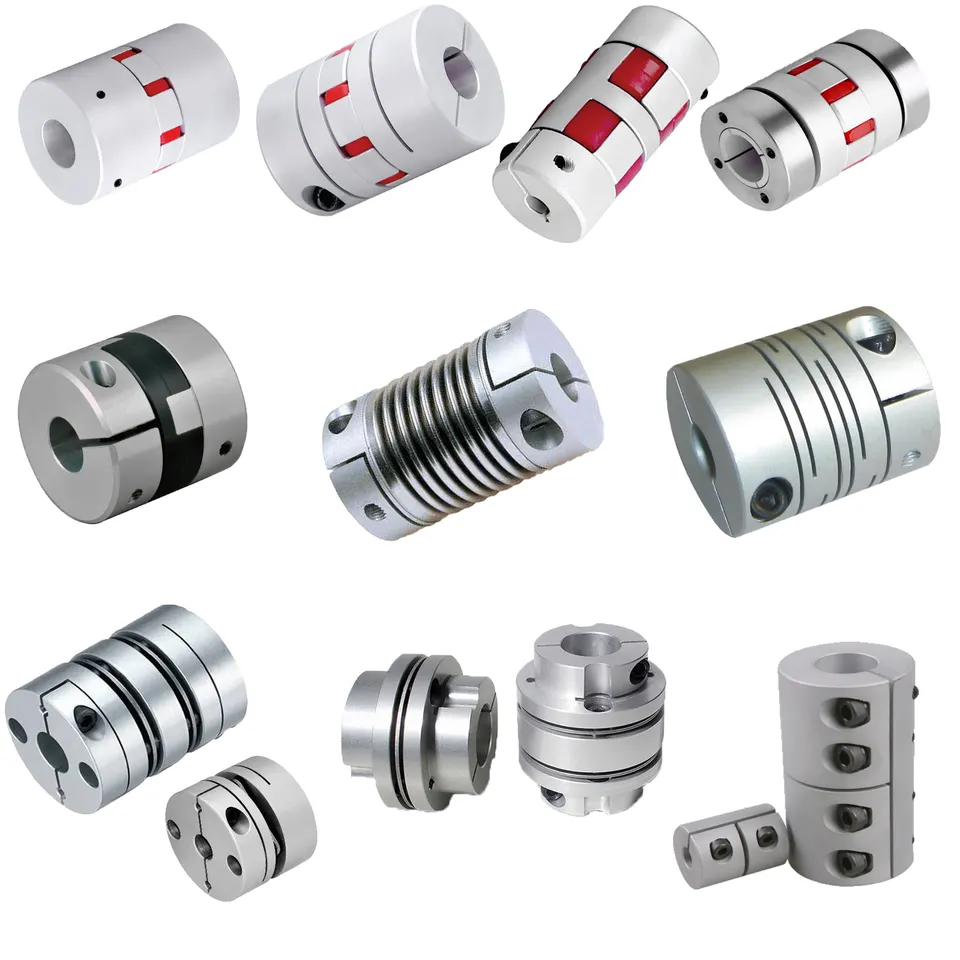 Comparing Jaw Couplings to Other Types of Couplings in Performance
Jaw couplings offer certain advantages and disadvantages compared to other types of couplings, and their performance characteristics vary based on the specific application requirements. Here's a comparison of jaw couplings with some commonly used coupling types:
Jaw Couplings vs. Gear Couplings: Jaw couplings are more economical and easier to install than gear couplings. They can handle misalignment to some extent, but gear couplings are better suited for high torque and high misalignment applications.
Jaw Couplings vs. Disc Couplings: Both jaw couplings and disc couplings provide some level of misalignment compensation, but disc couplings offer higher torque capacity and better torsional stiffness. Jaw couplings are generally more cost-effective for low to moderate torque applications.
Jaw Couplings vs. Oldham Couplings: Jaw couplings are torsionally stiffer than Oldham couplings, which means they provide more accurate torque transmission. However, Oldham couplings can accommodate higher misalignment and have no moving parts, making them suitable for some low-speed applications.
Jaw Couplings vs. Flexible Beam Couplings: Beam couplings are more flexible than jaw couplings and can handle higher misalignment. However, jaw couplings have a higher torque capacity and can dampen vibration better in certain conditions.
Ultimately, the choice of coupling depends on the specific needs of the application, including factors like torque requirements, misalignment, speed, and cost considerations. It's essential to carefully evaluate the performance characteristics of different coupling types and select the one that best suits the demands of the mechanical system to ensure reliable and efficient power transmission.



editor by CX 2023-09-30